21st Century Marketing now offers an exciting and innovative online product that delivers you qualified B2B leads from one
single source. Through our Co-reg tool, your offer becomes part of a robust qualification process from some of the country's
most valued publishing resources.
How does it work?
Subscribers to premier B2B publications such as Business Travel News, National Jeweler, Successful Meetings,
Potentials Magazines and Real Estate Investor are presented your offer at the same time that they are filling out their
individual subscriber qualification form.
Optimize Marketing Performance, Profitability and Effectiveness.
Our B2B Network consists of 217 professional web sites and newsletters, and growing. We advertise your product on that network at
no cost. Your ad will be viewed on average of 150,000 times a month for FREE! You structure your ad and 3 questions
to qualify your ideal prospect see sample below.
Below is a sample of an offer we ran for the PGA.
As you can see they are looking for convention business. The prospect only sees the
image and paragraph, once they select the offer, the three qualifying questions drop down. The questions were
designed to further qualify the prospect as a good lead and give their sales team additional info pertinent to following
up and initiating the sales process. I've also included some sample data of a lead batch. I've only included the titles
and the names of the companies to respect their privacy.
The data we normally collect is...full name, address, title, company, email address, phone, and of course answers to
your qualifying questions. We make all fields required so you only receive complete and qualified leads. Their only
incentive for filling in your form is genuine interest in your product/service.
We also send a custom auto-responder immediately upon their submission. You can put what ever
you feel would be relevant, contact information, special offer, call to action message, etc.


Offer Preview
---
PGA National, Memorable Meetings are a Matter of Course
339 renovated guest rooms, a self-contained 34,000 square foot conference wing with 23 meeting rooms and 2 ballrooms for groups of 12 to 1,200, five master-designed golf courses, a full-service fitness center, spa, pools, and multiple dining options.

| | |
| --- | --- |
| How many business meetings do you plan per year?: | |
| How many people generally attend those meetings?: | |
| Are you interested in someone from PGA contacting you?: | |
| Email: | |
| Phone Number (10 digits; no spaces or dashes): | |
Sample Data Batch
(only includes title & Company, removed other data to respect their privacy)
Take note of the Titles (decision makers?), and some of the Companies listed here are Household names.
| | |
| --- | --- |
| CEO | VIAJES TAUCETI |
| DIRECTOR | QUIZMASTER MEETING CONCEPT |
| MARKETING MGR | CBJ MARKETING INC |
| CUSTOMER ADVOCATE | EVESOLUTIOONS FOR HOPE |
| MANAGER | CHOSEN TRAVEL |
| MANAGING DIRECTOR | SILVER SADDLE RANCH CLUB |
| MANAGER | RAYCON INDUSTRIES INC |
| TRAVEL COMMODITY SPE | DELOITTE |
| OWNER | ELLEGANT AFFAIRS |
| MANAGER | GISELLE S TRAVEL |
| CHAIRMAN | UNIGLOBE TRAVEL(NORTH CENT |
| SR TRAVEL AGENT | AAA TRAVEL AGENCY |
| Travel Operations | KEANE INC |
| Event Planning Mgr | Classified Ventures LLC |
| PRES OWNR | J J DRABOT CONSULTING LTD |
| CONTROLLER | BB MOLDERS |
| VP OF SALES | EXECUTIVE TRAVEL |
| PRESIDENT | AMERICAS ATTIK |
| VP PURCHASING | WESTINGHOUSE LIGHTING CORP |
| EVENT DESIGNER | IN ESSENCE EVENTS |
| CEO 25 | NET INC |
| OWNER | MASTER TRAVEL & CRUISES |
| OWNER | KIV ENTERPRISES INC |
| CEO EXECUTIVE PRODUC | OTHER VIEWPOINT PRODUCTION |
| Manager | JUST TRAVEL |
| CORPORATE TRAVEL MGR | HALLMARK CARDS INC |
| PRESIDENT AND CEO | BLACK STORM NETWORKS |
| CEO | ALLIANCE JOY STAR INC |
| DIRECTOR IT | HOLDER GROUP ELKO LLC |
| VICE PRESIDENT OF MA | MATRIX MARKETING & COMMUNI |
| CHAIRMAN | SCOA TRAVEL CLUB CORP |
| Event Coordinator | GUITAR CENTER INC |
| SUPPLY CHAIN MGR | KRAFT FOODS INC |
| OPERATIOSN MANAGER | CONTITECH NORTH AMERICA |
| OWNER | ARTA TRAVEL |
| CLIENT SERVICE MANAG | TRAVEL AND TRANSPORT |
| VP SALES | FERRA DOYLE GROUP |
| VP 25 | CARDINAL TRAVEL RESEARCH |
| PRES | ALLIED IMPEX CORP |
| PURCHASING DIRECTOR | SOURCE 1 MANAGEMENT |
B2B Co-Registration Network Subscriber Profile & Publication Name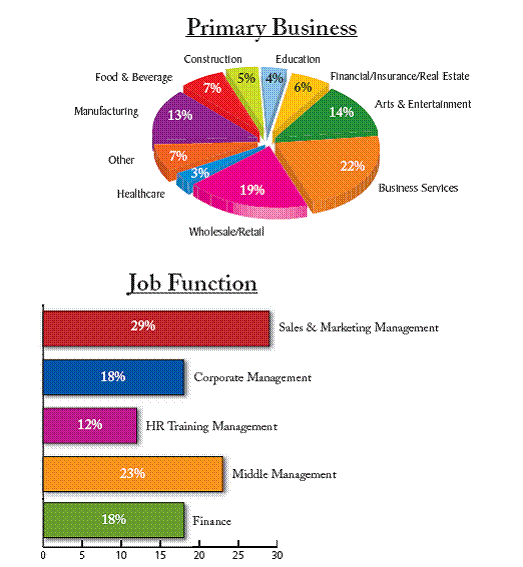 For more information on our B2B program
Contact Tony Giuliani: 321-663-4640
or Email Tony@21stcenturymarketingonline.com